Omeka S: improving digital literacy through virtual exhibitions
What is Omeka S?

Omeka S(emantic) is a free and user-friendly open-source web publishing platform that allows you to
create, manage and share a digital collection of metadata;
build a virtual exhibition through various media.
Omeka S focuses on institutions and researchers who want to share their collection or research with the outside world, as well as higher education. While students build an online exhibition, they gradually acquire digital competences. Via the platform, the Faculty of Arts & Philosophy wanted to embed digital literacy structurally into the curriculum.
Lecturers and students in the humanities in particular use the accessible tool, although Omeka can also be an added value for other disciplines. Omeka can be expanded with various available modules. For example, in 2020 the Ghent Centre for Digital Humanities developed a new transcription and annotation module for image material.
How do you improve digital skills via Omeka S?
In academic year 2018-19, Omeka was deployed in two research seminars at master's level in Art Sciences: Art, Interior and Design (Prof. Dr. Marjan Sterckx) and Modern and Contemporary Visual Art (Prof. Dr. Steven Jacobs) (10 ECTS, approximately 20 students). As a partial assignment, the students were given the task of creating a digital collection and exhibition. They did this in preparation for and supplementing a physical exhibition in the exhibition space of the Vandenhove pavilion. They worked individually and in small groups of about 5 students. The entire process focused on a number of 'digital' learning goals:
introduction to Digital Humanities: introduction to digital theory and practice
Research: use a digital platform for data and collection management
Collaboration: use a digital resource in function of a shared (research) project
Reporting: alternative reporting (not the classic presentation or paper)
Science communication: translate research results into an online, audience-friendly and interactive visual narrative
The following academic year (2019-20) Omeka S was also rolled out in two other subjects: Image as a Historical Source (Prof. Dr. Anne-Laure Van Bruaene and Prof. Dr. Margo De Koster) (5 ECTS, approximately 60 students) and Literature in English: Modern Period IV (Prof. Dr. Marianne Van Remoortel) (5 ECTS, approx. 10 students).
And a second screenshot of the digitally searchable collection of the virtual Omeka S exhibition 'Crime Scene: interbellum interiors in Belgium' (Prof. Marjan Sterckx, Research Seminar Art, Interior and Design).
How do you use blended learning via Omeka S?
The Omeka S project focused on 'activating' learning and aimed for a balance between supportive contact moments and independent learning situations, both individually and in groups. The blended learning method consisted of the combination of these offline and online learning moments:
Offline collective contact moments
Workshop

analyzing good practices (see project examples)
presenting Omeka S
practicing basic functions of Omeka S
explaining assignment
explaining assessment criteria

PGO tutorial

developing a uniform metadating system (via shared spreadsheet)

Microteaching

presenting interim results via Omeka S

Feedback sessions

adjusting interim results
Online independent learning moments
exploring further possibilities of Omeka S (see introduction video and sandbox)
performing individual tasks and group assignments based on instructions
solving any problems (see manual)
creating digital collection and exhibition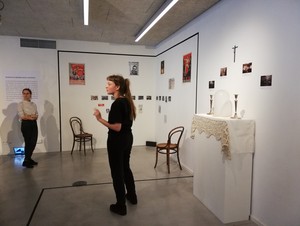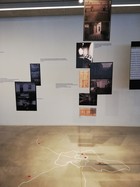 What are Omeka S's pitfalls and opportunities?
Sometimes students have to overcome a threshold to get started with digital tools. GhentCDH has developed a didactic SWOT analysis (strengths, weaknesses, opportunities and threats) to support lecturers, based on the teaching experiences, results and students' reactions to Omeka S. These student quotes illustrate five simple digital tricks to entice Omeka S (or any other digital project).
Pitfalls
"At the very beginning of the workshop, I was a bit put off by all those digital concepts and examples. How could I, digi-newbie, ever do that myself?"
Prevent digiphobia and the fear of the 'black box': give a short demonstration of the digital tool and/or let students get started with it immediately to overcome threshold fear.
"At first, I thought of the creation of that digital collection as a mandatory task. But during my research and the group work I quickly experienced the advantages: I could easily search the entire collection for keywords and we no longer had to create separate PowerPoints or constantly e-mail files to each other."
Prevent 'appendicitis': Clearly explain what the benefits of the digital tool are and how these relate to the objectives of your course. Emphasize the potential saved time.
Opportunities
"I was struggling on my own at first. But by looking at how my colleague handled it every time, I had quickly mastered it."
Peer learning: indicate that the intention is for the students to learn from each other during a joint digital project.
"With 20 students we brought together a collection of more than 400 objects to create our expo! Of course, that would never have been possible on my own."
Collaboration: Underline that digital collaboration methods enable more ambitious projects.
"I'll just include my digital exhibition in my portfolio when I apply next year!"
Connection to the field of work: Libraries, museums, and other heritage institutions, among others, use Omeka S to make their collection accessible. Highlight this professional use as an additional argument to convince students of the importance of the skills learned.
Want to know more?
Surf to the project page of GhentCDH and read all about:
Do you want to use the Omeka S project yourself in your own educational practice?

Review the didactic SWOT analysis Omeka S for lecturers made by GhentCDH. [link pdf] GhentCDH supports you to set up an Omeka S installation and to organize a workshop.
Contact Christophe Verbruggen (Christophe.Verbruggen@ugent.be) and Davy Verbeke (Davy.Verbeke@ugent.be).

Use the support materials from developer Roy Rosenzweig Center for History and New Media, such as an introduction video, manual, sandbox and project examples. The material facilitates getting started with Omeka for both lecturers and students.
Last modified Sept. 2, 2021, 9:56 a.m.