How to Make Your Own Knowledge Clip
Making knowledge clips is time-consuming. The step-by-step plan below guides you through the process of making high-quality knowledge clips in a time-efficient manner.
Step 1: Determining the Purpose of Your Clip
It is important to have a clear idea of what it is you want to achieve. The purpose of the clip determines the type of clip you will be making. Putting theory into practice, our colleague Annelies uses the knowledge clip below to explain how to make … a knowledge clip (02:31). In Dutch.
Tip! In the video, go to the cogwheel icon, select "quality" and choose the highest value for optimal playback quality. If you cannot play the video, read the transcript instead.
Set to work and use the following word-file to define the purpose of your video.
Step 2: Writing a Script
Writing a script may sound time-consuming, but take it from us that it will actually save time when recording and editing the clip. Take a look at the clip below on why it is useful to write a script (03:24). In Dutch.
Tip! In the video, go to the cogwheel icon, select "quality" and choose the highest value for optimal playback quality. If you cannot play the video, read the transcript instead.
Set to work and use the following word-file (see above) to write your script. In addition, you might find inspiration in the downloadable script of the video above.
How to Rehearse Your Script
You can either learn your script by heart before you start recording, or you can read it from your screen using a telepromter or autocue. News anchor-wise, you will read your text as it appears on screen either just above or just below the camera. Viewers will notice that the text is being read. The ICT Department has a professional recording studio with a teleprompter. Make an appointment, bring your script and play it in front of the teleprompter. A number of free alternatives are available for home use (e.g. CuePrompter).
Another handy tip is having a flip-over next to your camera, on which you note down a number of key words. This helps you keep an eye on the central theme of your video. And although one-takes mean less editing in shorter clips, it is also possible to break down a video in shorter takes or recordings. This gives you just enough time per take to review your notes before you start filming.
Step 3: Using a Professional Recording Studio on Campus or Professional Equipment at Home
1. Locatie
Take a moment to consider the set-up of your video clip beforehand if you intend to appear on screen. Think about where you will be filming, and the way in which you want to appear on camera.
Find a quiet spot in the house where you will not be disturbed, and where there are no annoying background noises (the wind, air-conditioning, the telephone ringing, footsteps in the hall, …). Such noises are difficult to edit out afterwards.
Listen carefully whether or not there is an echo. An echo can be muffled by putting pillows, blankets, jackets, carpets into the room.
Make sure you have plenty freedom of movement. Recording your video clip in a location or against a backdrop that adds meaning to your story. When planning to film in your office, make sure to clean up first, and remove anything that might distract the viewer. (This applies to all other locations as well).
You might want to film yourself sitting/standing in front of a green or blue screen. This enables you to edit and add a backdrop of your own choosing afterwards. Should you choose to work with a green screen, avoid green clothing. If you have green eyes, it is best to choose a blue screen and avoid blue clothing. The green/blue is filtered out during editing.
Alternatively, choose a plain, unpatterned and monochrome background, like e.g. a white back-cloth or a white wall. This will give your video a distinctly professional look. While editing, you can then add text boxes, images, … onto that white background.
Carefully consider your outfit in advance, too. Avoid wearing anything that is striped. Stripes tend to "move" on the camera. Jewellery, glasses, tie-clips, … may also cause unwanted reflections on screen.
2. Image
To make high-quality images, take into consideration the following rules of thumb:
Avoid jerky images. Using a tripod will give you nice and steady images;
Make sure your subject comes sharply into focus. If your camera is equipped with autofocus, disable that. If not, the camera will focus and refocus on every movement you make;
Videos in 4:3 are outdated, so use a wide-screen format. When uploading a video in 16:9, it will fill out nicely in a standard video player like YouTube. Uploading a video in 4:3 will result in black ribbons to the left and right.

Film in High Definition (HD). Most cameras will allow for setting the resolution manually. High resolution results in sharp images, but also in larger file formats. We advise using one of two formats:

1280 x 720 pixels (smaller file size but quality is still acceptable), well-suited for playback in Ufora;
1920 x 1080 pixels (larger file size), well-suited for playback in a lecturing hall.
When making video clips on a smartphone, tablet, … make sure to hold your device horizontally. Look at the video below to find out why.


Use a number of basic shots during filming. Try recording one scene using 3 shots (wide, medium, close-up). Alternating shots during editing will capture and maintain your audience's attention, and make your clip more interesting to watch. The video clip below demonstrates the basic shots:


Take into consideration the rule of thirds


3. Lighting
Proper lighting is essential when filming. The simple tips below will allow you to perfect your lighting and to capture your clip's subject nicely on screen.
Make as much use of natural light as possible. When no daylight is available, make sure there is sufficient artificial light.
Do not place a subject with its back towards a window, unless overexposure is the effect you wish to create.
Use face powder to avoid a spotlight-induced shiny forehead.
Follow into the footsteps of a professional and consider using three-point-lighting.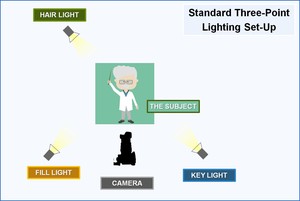 4. Sound
Faulty sound (too quiet, too much static or dropping out) in a video will cause your viewers to quit. Make sure the sound is perfect from the start. Faulty sound is very difficult to correct while editing.
Take a look at the tips below to ensure perfect sound while recording:
Use a tie-clip microphone and/or a Dictaphone when appearing on screen. When making a screen recording of your computer with voice-with, we recommend using a USB microphone.
Record at a 1,5-metres distance at most when using a built-in microphone.
Clap your hands before you start recording. This is a useful trick to synchronize sound and image afterwards. Make sure to capture the hand-clapping on camera.


Avoid environmental noise (humming, murmuring, traffic, footsteps in the hall, talking colleagues, …). Create a quiet space.
Always make a demo/screen test. Use headphones to check whether the sound is ok and make sure that the image frame is correct.
Make sure to drink plenty of water to avoid smacking one's lips too often.

If you are interested in finding out more about high-quality microphones, but have no time to test them all yourself, take a look at the following links:
<
Step 4: Start Recording and Editing!
Recording and Editing Software and Tools
Below you will find an overview of recommended editing software for making knowledge clips and (enriched) lecture recordings. It also indicates the accompanying learning curve: software demanding a high learning curve require a lot time; software with a low learning curve are user-friendly and easier to master.
Software

Description and Price


Learning Curve

Device + Functions

Camtasia Studio
Commercial software for editing, screen capturing, integration into PPT (180 euro)
High
Mac - Windows
Functies
OpenShot Video Editor
Freeware for edititing videos, no screen capturing
High
Mac - Windows
Functies
Shotcut
Freeware for editing videos with video and audio capturing but no screen capturing
High
Mac - Windows
Functies
OBS Studio
Freeware for editing videos with video, audio and screen capturing and live streaming
High
Mac - Windows
Functies
Snagit
Commercial software. Screencast + screen capturing (44 euro)
Medium
Mac - Windows
Functies
iMovie
Freeware for simple video and photo editing. Compatible with Mac, iPhone, iPad
Low
Mac
Functies
Movavi
Commercial software for simple video editing and screen capturing (30 to 50 euro)
Low
Mac - Windows
Functies
Photos app
Freeware for videos editing, no screen capturing
Low
Windows 10
Windows G
Hidden screencast in Windows 10
Low
MWindows 10
Microsoft PowerPoint
Without own on-screen appearance
Kom zelf in beeld met office 365
Medium
Mac - Windows
Screencast-O-Matic
Has a freeware and commercial version. Allows screen capturing and video editing.
Medium
Mac - Windows
Functies
Step 5: Publishing Your Knowledge Clip on Ufora
There are various options to add your clip to Ufora or in a Ufora learning pathway. Take a look at the manual (p.42) compiled by the Ufora Team.

Want to Know More?
Ghent University's Teaching Community has an MS Teams Channel on Knowledge Clips and Enriched Lecture Recordings. It is the place to be for exchanging experiences and ideas with colleagues about knowledge clips you have made, and to
UGent Practices
Last modified Dec. 23, 2021, 9:47 a.m.