Digital tools and methods: a faculty-wide Ufora course Digital Humanities: Learning Paths
In the context of the faculty educational innovation project 'learning path digital literacy' (in Dutch), the Faculty of Arts & Philosophy developed a faculty-wide Ufora course on digital tools and methods. This concept of a shared faculty learning platform makes it possible to bring expertise together and to spread it across a faculty.
What does the faculty-wide Ufora course Digital Humanities: Learning Paths entail?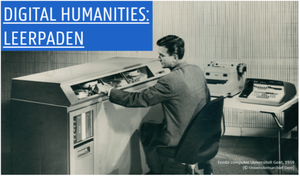 The Faculty of Arts & Philosophy considers digital literacy to be essential for its students, both as research competency and as preparation for the labour market. The faculty educational innovation project 'digital literacy learning pathway' (2019-2020) has therefore developed a Ufora course, Digital Humanities: Learning Paths, with digital tools and methods for the humanities, to which individual researchers and lecturers have contributed. Students and teachers will find different learning paths for online or blended learning. This choice for an extra-curricular, open Ufora learning environment and its principles and concrete elaboration can inspire other faculties as good practice!
Anchoring digital competencies: what are the obstacles?
Anchoring digital competencies in education often proves to be difficult in practice. A few factors are the basis for this:
Fragmented expertise: Many teachers have digital knowledge, but they often only teach it in their own classes. Moreover, this expertise often remains invisible to colleagues from other fields.
Heterogeneous: The broad field of digital humanities has diverse applications and specializations. As a result, teachers lose sight of the usefulness for their own discipline and education.
Time-intensive: Mastering digital tools and methods takes time, integrating them into your own educational practice even more.
Threshold fear: Digital tools can be a deterrent. Without support, few teachers or students take the initiative to get started.
Anchoring digital competences: what is the solution?
To solve the previous problems, a cross-disciplinary Ufora course was created: Digital Humanities: Learning Paths. To engage as many teachers and students as possible, a transdisciplinary approach was chosen:
Competencies: 15 generic digital competencies form the basis of the learning environment. Each module specifies which competencies are practiced. This way, they offer everyone something to hold on to.
Themes: three general themes (i.e. information management, language and text analysis, and geospatial analysis) cover a very wide range of digital applications.
Examples: the learning paths use discipline-independent examples and cases if possible or vary them when possible.
Ufora course Digital Humanities: Learning paths: What are the results and benefits?
The result is a simple but new kind of learning platform that has a number of advantages and qualities:
Scale advantage: all teachers and students at the faculty are automatically enrolled for the extra-curricular course and have access.
Collaboration: teachers permanently share their knowledge with colleagues and students.
Centralization: previously fragmented knowledge and didactic material can now be found in one place.
Familiar: teachers and students are familiar with Ufora and can easily get started.
Import modules: teachers can easily import (parts of) the learning paths into their own Ufora course.
Adaptable: after importing it into their own course, teachers can still adjust a module to their own discipline or research topic if necessary.
Expansion: The learning environment can continue to grow with new modules: every researcher or teacher can contribute in the future.
Multifunctional: the learning paths can be used independently with guidance (in the context of a course unit) or completely independently (by a student on their own initiative).
Multiple target groups: not only students and teachers can make use of the learning paths, but also e.g. doctoral students can easily retrain for their own research.
Dissemination: the available expertise can be disseminated and used in a simple way.
Teaching the teacher: teachers can train themselves in digital methods and implement them in their teaching practice.
Visibility: the Ufora course offers a handy overview of the expertise available at the faculty.
Recognition: the expertise of the makers of a learning path becomes visible and they become a point of contact.
Efficient: teachers avoid extra work because they can count on existing learning materials.
Want to know more?
Last modified Sept. 2, 2021, 9:56 a.m.